Mustthai.com / Online Thai Grocery. Our main products are premium selected foods enjoyed by Thai people and foreign tourists and are usually brands recognized for excellence. Charge the delivery fee in real cost of Thailand Post according weight between the recipient's country. Save money when compared Guarantee!! Our slogan is "Fine selection of products with standards and friendly service" Minor administrative expenses, so we can stay in business (Limit total 10 items/order, but unlimited volume).
Thai cuisine is usually made of vegetables, herbs and spices made savory by the fragrances of ginger, galangal and lemon grass, all of which are found in curries, soups and beverages; Thai foods are healthy, nutritious, delicious and in available in a variety of tasty and rick flavors.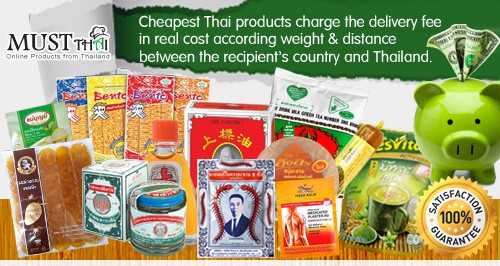 Additional FAQ :
** Small Packet Air + Int'l Registered (Tracking number) 7-21 Post working days. Boxes and products total weight limit 2kg)
** All order when we have found your payment and we will deliver products and notify tracking number within 48 hours. (except Sunday and public holidays)
** Check your package tracking number at : http://track.thailandpost.co.th/
** For packet air, if after 21 Post working days, customers still do not receive package or any notification of delivery at your address, please kindly ask your close local post with your tracking number. And contact us.
** Sales for Liquid Products! Due to the limitations of air cargo transport with new laws making liquid products controlled substances (sizes no more than 100 ml per box.)
** If Post office does not have an international package service available in some countries, we will refund money back to you in a full amount within 48 hours. (2 working days.)
Note : Import duties, taxes or charges and lost goods at recipient's country. These charges are the buyer's responsibility.